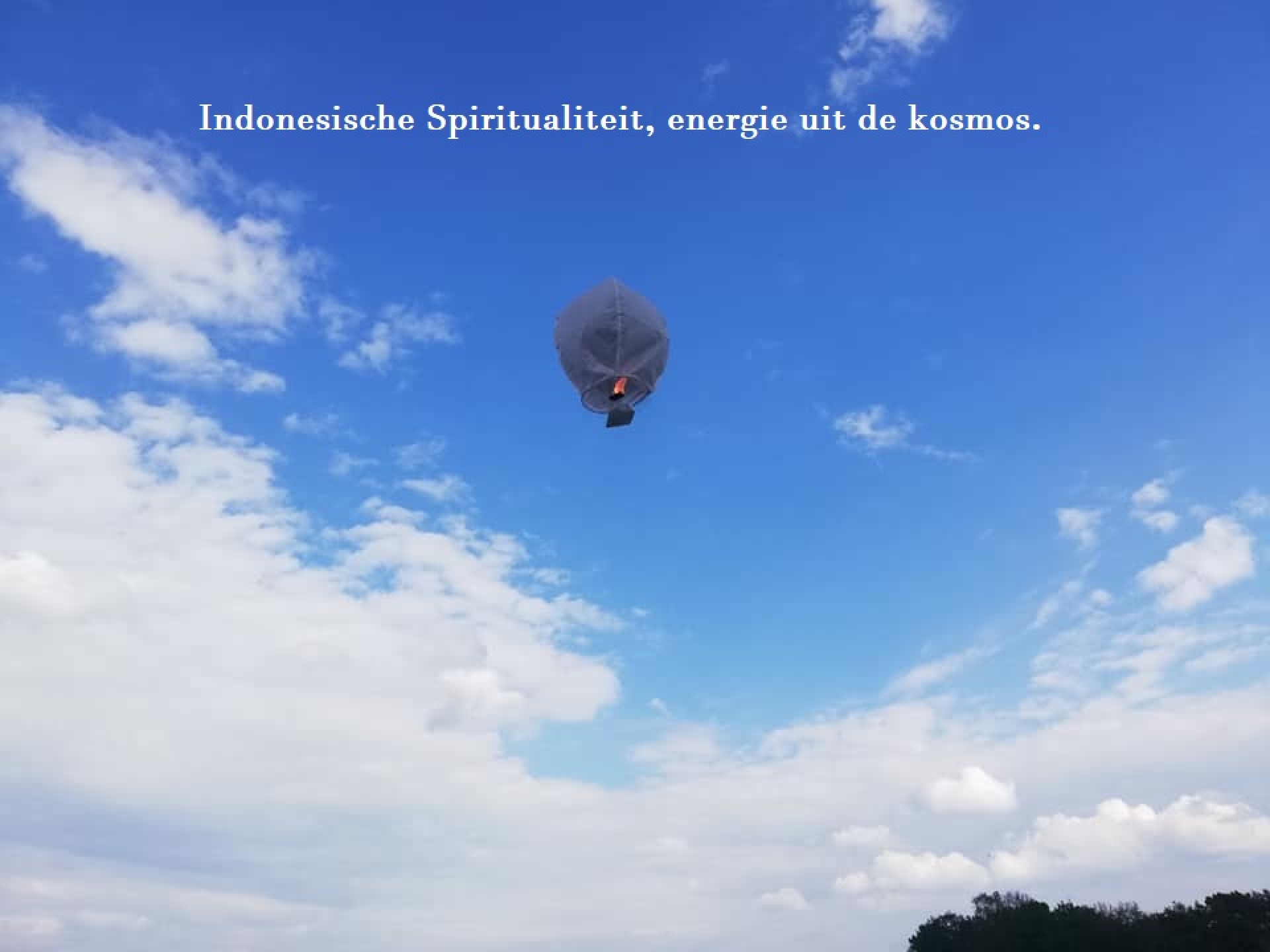 My keris pusaka
My pusaka keris.
When i was very young my grand mother always told me beautiful stories about that beautiful and mistik country Indonesia.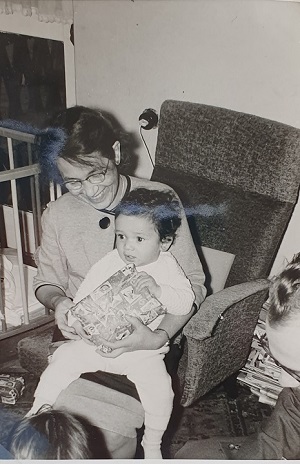 Me and my grandmother Annie, she also took care of the family keris Kiayi Slamet during WW2.
She also told me the stories about my grand grand mother who was an Indonesian prinses raden adjeng Augustine Setjodiredjo.
"When you grow up, you are going to get a keris" she told me...

I worked in the antique buisiness for many many years, and specialised in restoring antique and determinating old real antique versus fake old made antique. I always had a keris in my house. But i'm not a collector like most lovers of the keris.

Think of it as with cars, a collector would prefer an old car with only 10,000 km on the odometer, knows everything about the year of manufacture, equipment manufacturer, etc. I am a "car driver". With me, it should be easy to use and work when I ask. So it is with the keris, I am only interested in the pusakas with energy, and follow the traditions, which most collectors do not do either.

Most of my friends they read almost every book about the keris and their Tangguh, dapur, pamor. I cannot force me to read these books. But give me a book about spirituality, ed Veda's, Kejawen etc. i cannot stop reading and probably loose my sleep!!!

I meditate with the keris, keep all official days like Jumat Kliwon and Tumpek Landep and sacrifice for the kerises. Most collectors can tell you every historical detail of the keris, the kerises look flawless to most and have are more beeing displayed as preserved. I store them so that the energy is preserved ....
My grand grand grand father was Doktor Jawa Raden Mas Setjo di Redjo, Wedono and Javanese dokter from east Java, Panarukan, Wedono from Prajekan.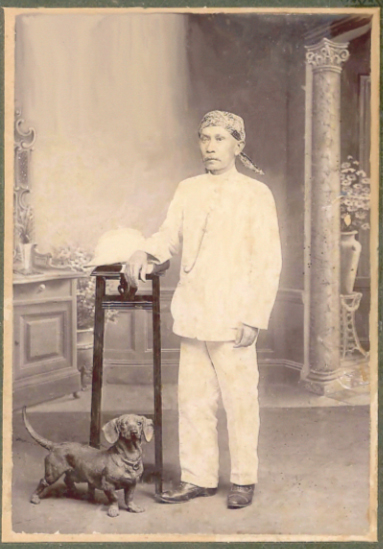 During World War 2 my grandparents were send to a Japanese concentration camp,and all Priayi from east Java, Panarukan, were killed by the Japanese army.
Japanese executed the entire Priyaji of Basuki in 1945, which marked the end of the Dynasty ...

Via the magazine De Vrije Pers, the Investigation Service for the Dead (O.D.O.) reported on September 1, 1949:
Panaroekan, 1949.
"The mass arrest of these Priaji's at the time aroused great turmoil and is still a much debated topic in Priaji circles today. (Javanese nobility - JP) Only recently, the Investigation Service of the Deceased succeeded in bringing some clarity to this controversial affair.
The investigations showed that the Indonesian government officials were first deported to Banjoewangi. After being interrogated by the Kenpeitai for a few months, they were quietly transported to Surabaya at the beginning of November 1944, where they were locked up in the Werfstraat prison. On November 28 and 29, 1944, the Japanese Court of Justice pronounced the death sentence on these officials. In the early morning hours on December 3, 1944, they were put into trucks leaving the prison of unknown destination.
By a sharp questioning of the Japanese war criminals detained in the Tjipinang prison in Batavia, it has now been established that Bodjonegoro was the final destination of the trucks. In the dark djati forests around Bodjonogoro on December 3, 1944, at dawn, the firing squad of the infamous Ohara unit sounded. These shots ended the lives of these Indonesian government officials. On the spot they were buried in a mass grave. The names of those executed were obtained from an eyewitness who was locked up as a prisoner in the Werfstraat prison at the time of the removal of the administrative officials.
On 3 december 1944, the Japanese Ohara corps killed all nobility from Panarukan in the forrest of Bodjonogoro.
In remembrance:
Bagoes Bambang Soetopo Soedibio Koesoemo, Regent from Panaroekan;
Abdoelkadir Sosro Amidjojo, Wedono from Panaroekan;
R. Soedarsono, Wedono-kotta Sitoebondo;
R. Ismangoen Danoesoebroto alias Soerjadi, wedono from Asembagoes;
Mohamad Saleh Hardjowidjojo, Wedono from Wonosari;
R. Ngabei Mohamad Joesoef Joedodihardjo, Assistent-Wedono from Tegalampel;
Soekirno Hadiwinoto, Assistent-Wedono van Asembagoes;
R. Madiroso Koesoemowidjoio. Assistent-Wedono from Kendit;
Kjai Abdoelgani Singoatmodjo, Assistent-Wedono from Sitoebondo;
Baharoedin Soemodiredjo, Assistent-Wedono from Panaroekan;
R. Soepradi Soeriokoesoemo, Assistent-Wedono from Djangkar;
Djojosoetikno, Assistent-Wedono from Kapongan;
Moestopo Patmodiredjo, Assistent-Wedono from Banjoepoetih;
Mohamad Imam Soerowidjojo, Assistent-Wedono from Ardjasa;
Dasri, Assistent-Wedono van Besoeki;
M. Endin Soemodipoetro, Assistent-Wedono van Soebah;
R. Soepangat Prawiro Hadiwinoto, Assistent-Wedono van Pandji;
Tajidin Soemosoebroto, gepensioneerd Assistent-Wedono from Tjoerahdami;
Tajipi, gepensioneerd Wedono from Tangbatang (Madoera);
R. Soetjipto Martokoesoemo, Commies-Redacteur of the Secretarie from Regentschapsraad van Panarukan;
R. Soedarsono. Ambtenaar P.T.T. te Sitoebondo;
Sainoedin alias Sosrosoeseno. Writer of the Djaksa-office te Sitoebondo;
R. Mohamad Zainal alias Kromosastro, Mantri-goeroe, desa Treboengan te Sitoebondo;
Abdoel Madjid, Lightwaiter te Panaroekan,
Mas Santrijo Djojoatmoko. Hoofdoppasser of the Regent of Panarukan;
Ponidjan, Managerof thet Hotel te Sitoebondo;
Tajidi, Mantri Passerwezen te Sitoebondo;
Arnawi alias P. Soetri alias Reksokario, Desaheadof Pasirputih;
Go Kiem Ho, Wijkmeester te Sitoebondo; en
Kyan Chin Kei.
The Ohara corp also murdered:
Saheroen Soemodiredjo, Assistent-Wedono van Mlandingan, killed in captivity te Mlandingan (Besoeki);
Ang Tjwan Khing, Handelaar te Panaroekan, geexcecuted te Antjol;
Kariowisastro alias Hanapi, Desahoofd te Mimbaän, killed in captivity te Banjoewangi,
Endin, Spoorwegarbeider te Diember, killed in captivity te Banjoewangi;
Pak Saemi, Waker van de Regentschapspasanggrahan te Pasirpoetih, killed in captivity te Banjoewangi;
Sech Saleh bin Salin, Procureurbeambte (?-JP) te Sitoebondo, killed in captivity te Banjoewangi;
Imamoedin, son of Hoofdpengoeloe te Sitoebondo, killed in captivity te Banjoewangi.
What do we know about the resistance of Sudibiokoesoemo and his followers? Nothing, except that the O.D.O. assumed that there had been actual resistance, and that Soedibiokoesoemo was in the lead.
Incidentally, it need not have meant much. The Japanese were aware of the growing dissatisfaction among the Javanese population about the economic decline and the lack of commitments to independence. Sporadic reports of Allied victories in the Pacific made them particularly suspicious. There were fears that the Allies would land on the coast of East Java. Everything that seemed suspicious was examined to the bone.
Panaroukan, t.t.v. Operation Product, July 1947.
The Panaroekan affair must be placed in a long line of mass arrests in East Java from the end of 1943.
In December 1943, 71 Moluccans in Surabaya were suspected of firing flares to attract the attention of Allied aircraft. All but one were executed in mid-1944.
In May 1944, shortly after an Allied bombing raid on Surabaya, about fifty Moluccans were again arrested, suspected of signaling. Also arrested this month was M. Basoeki Poerwowidjojo, assistant wedono of Mangli (Djember regency), along with Pa Soedarmo, Adjoeng's head, and P. Sarkam, head of Adjoeng's kampong police. Basoeki was accused, among other things, of having lit fires in the shapes of a "V" (Victory) and a "W" (Wilhelmina) on one of the dark evenings. On December 15, 1944, he was sent by the Kenpeitai from Djember to Batavia to appear before the Council of War. In January 1945 he was executed in Antjol.
In November 1944 ex-Dampit boys were arrested, as well as two NEFIS agents who landed near Panaroekan.
The PETA arrests in Blitar took place in January 1945. Also in the first half of 1945 there was a raid among the Indonesian officials of the Besuki residence. These officials were also accused of undermining authority. The first victim of Kenpeitai arbitrariness fell to the Regent of Bondowoso, R. Mohammad Safioedin, also named Atmosoedirdjo, who immediately after his arrest was so mistreated that he died during questioning.
The fate of this group became known to us because in 1948, while one of the cases against members of the Kempeitai headquarters was being handled, a driver stated that he was aware of mass executions in Bodjonegoro. When Japanese residing in the Tjipinang prison in Batavia were once again put to the test, it turned out that in February 1944 a group of 62 people from Madura had been executed in Bodjonegoro, in mid-1944 the group of Moluccans from the rocket affair from Surabaya, and therefore , in December 1944, 30 persons from Panaroekan and surroundings.
Lots of lineage from the priyayi from east Java left Indonesia and fled to the Netherlands, taking their most pressiouse possessions with them.
My family lost the valuable pusaka's during that time, but my grand mother told me the legend of the keris: "a keris always looks for his family to come back to...".
When growing older, my father got a keris from uncle Piet, and when my father past away i got the keris what changed my life completely.
When searching for the family heirloom i met very much descendants of the east Javanese priyayi, and some of the kerisses were donated to musea, some still kept and taken care for as pusaka, and some donated the keris to me, because they wanted their keris beeing fed and honoured as presiouse family heirlooms, just to keep the tradition alive.
https://javapost.nl/2013/12/11/de-onwrikbare-trouw-van-soedibiokoesoemo
ATTENTION, i am looking for old Wedono keris from east Java. Here is an example of an typical Wedono keris from east Java: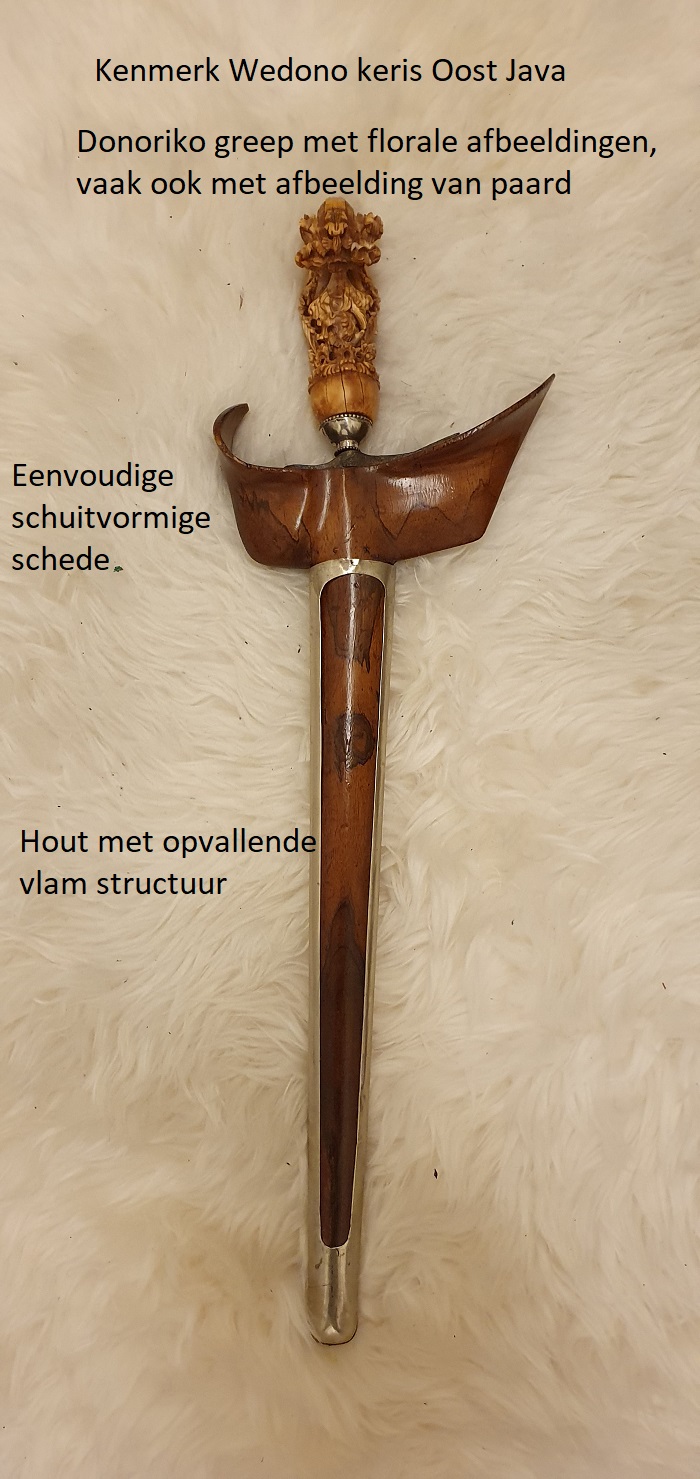 I am so proud to take care of those beautiful heirlooms of east Java, in memory of my Indonesian origin...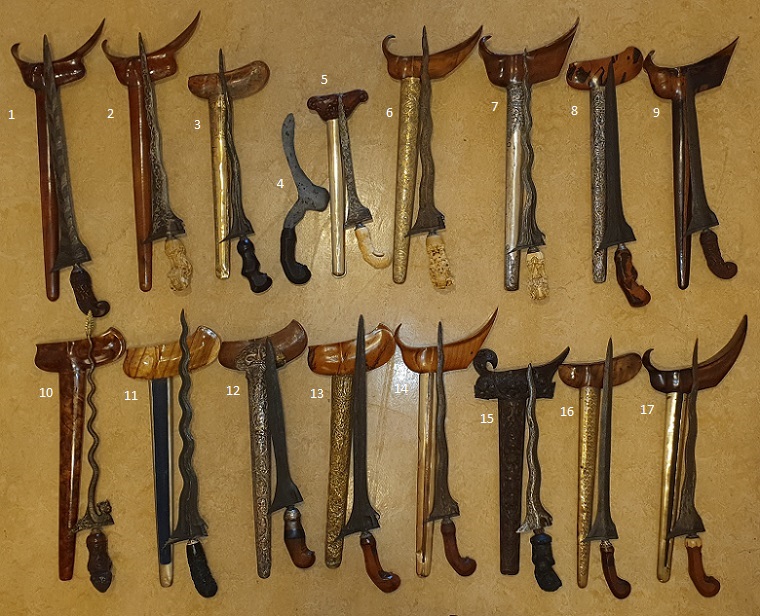 Keris 1 and 2 are my first pusaka, Yin and Yang, the keris i got from my father.
Keris 3 is from a descendant from the priaji from Panarukan, uncle Eugene.
Kudjang 4 was a birthdaygift from Richard and Willemijn de Rooij.
Keris 5, 6 and 7 are from a descendant from Raden Mas Setjo di Redjo, brought to the Netherlands by his 3rd doughter.
Keris 8 and 9 are from a father in law.
Keris 10 is a own pusaka.
Keris 11 is from a descendant from the priaji from Panarukan, kept in Teuge.
Keris 12 is given as pusaka, comming from Jacolien van Breemen uit Den Bosch
Keris 13 is given as pusaka, comming from Marjanne uit Almere
Keris 14 is given as pusaka by Henk Brouwer
Keris 15, 16 and 17 are given as pusaka comming from family Jansen, heirloms from their father.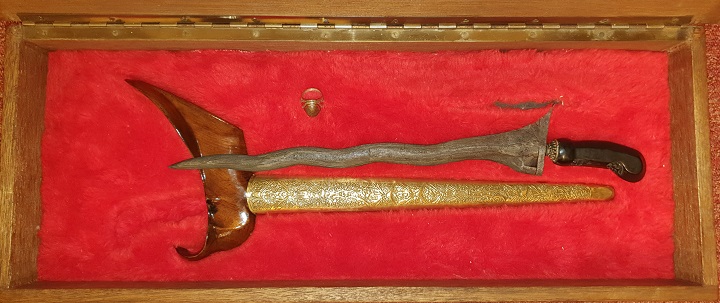 Keris 18, a pusaka given by Stephen Gharzi, Pencak Silat Guru from Rotterdam.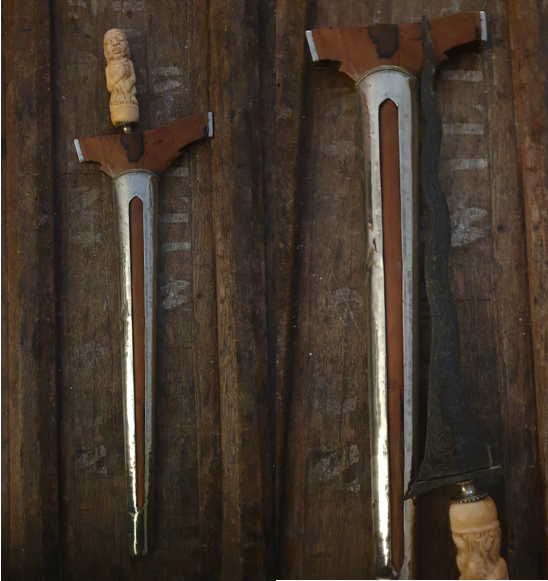 Keris 19, a keris received by mas kawin from Leenderd in Zutphen.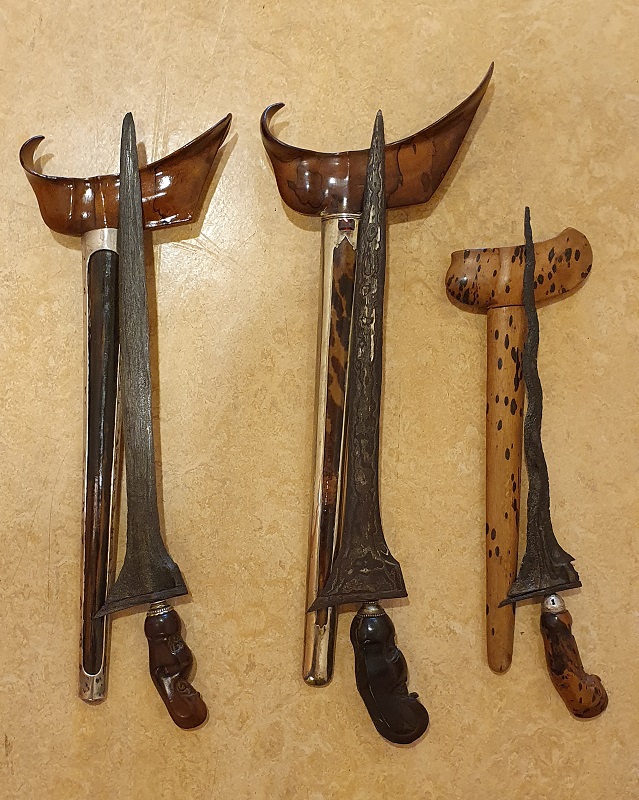 Keris 20, 21, 22, east Javanese Keris pusaka from Jan Zwemmer, received by mas kawin from his son Mr C. Zwemmer.
Keris 23, verkregen via mas kawin van Ellen en Martin de Munck.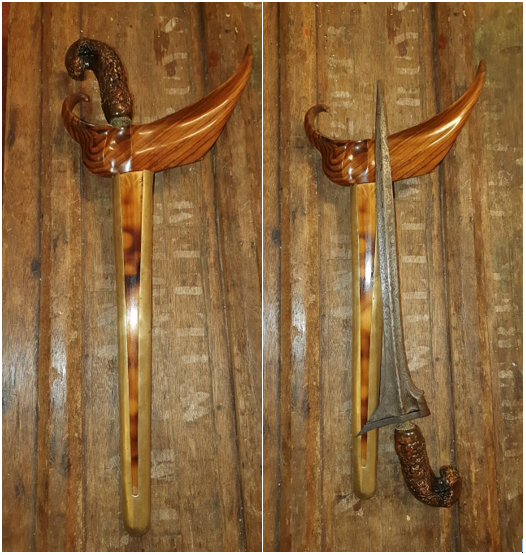 Keris 24, een fantastische keris Kyai Mundharang, van een Indische familie uit Naarden. Blade is around 1840 PB IV, Dapur Mundharang, Pamor Pedaringan Kebak. (source Philip Hartmann!)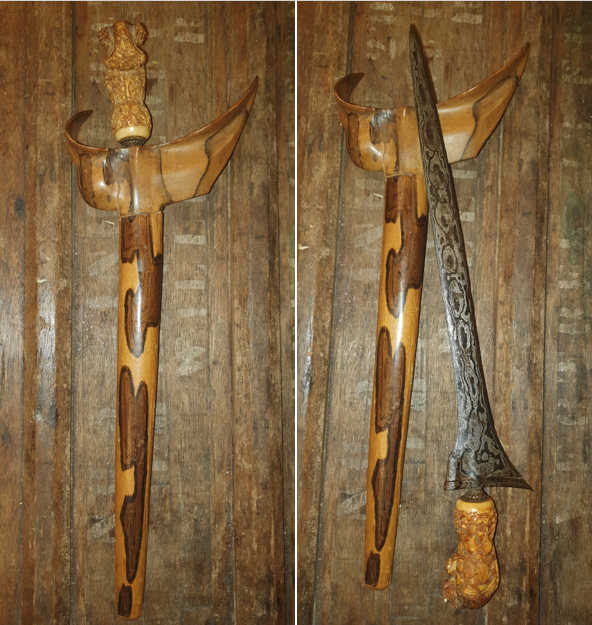 Keris 25, Mooie Oost Javaanse keris, verkregen via mas kawin van Herman de Klerck. Meegenomen door zijn oom Kaptein Melief van de grote vaart.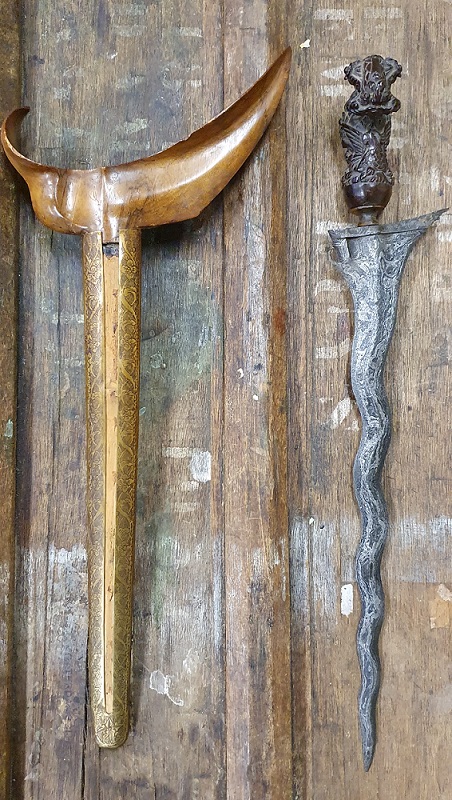 Keris 26 Nog een fraaie oost Javaanse keris verkregen van Frans de Klerck, ook via zijn oom Kaptein Melief van de grote vaart.